TopNotch Inv.
A Little About Our Agency
From a memorable day in 2014 to present day, we have been shaping the digital presence of Cape Cod and Boston businesses to provide them with an outreach of greater revenue and wider audience.
February 2014
The Foundation Stone Was Laid
Since day one to now, TopNotch Innovative Technologies has evolved into a full-service software development company which creates a wide range of digital products for its clientele in Cape Cod and Boston. We indulge in Custom Built Software, Cloud Application, Website Development, Web and Mobile Application Development, and so much more.
Famous for our proactive approach, our expert technical professionals prioritize client satisfaction, success, and happiness above all. With a roster studded with leading business consultants, engineers and designers, we can guarantee success for you.
About Us
How It All Began In Cape Cod
In 2011, Cape Cod businesses struggled in competing with big guns since their use of traditional marketing tools wasn't up to par with the digital age. TopNotch Innovative Technologies realized these issues and provided them with a well thought of solutions in terms of website design, website development, mobile application development and software development.
Within the next three years, our company expanded from Cape Cod on to Boston. The resulting success and growth are all due to our clients trusting the effectiveness and quality of digital products and services.
Our Mission
We Work For Your Success!
At TopNotch Innovative Technologies, we recognize, value and nurture talent. Our mantra is, "Do what you are best at". Instead of focusing on Jacks of All Trades, we look for Masters of One. This is what makes our team unique, skilled and motivated.
Vision
Our Vision
As time progresses, so do the digital trends. Every new advancement completely evolves existing techniques. We aim to stay ahead of the curve and take our solutions onto a broader scale.
Our Team
Let Us Introduce Ourselves
We are a team of creative, happy, unique and friendly experts hailing from different walks of life. From our professional haven, we create digital miracles for you.
Testimonials
Hear What Clients Have to Say About Us
My name is Rob Papa, General Manager of Arts Dune Tours. I highly recommend Topnotch to any company looking to expand in this direction. Call us at Arts Dune Tours for a personal recommendation!
Ali and his team were very easy to work with and gave our company the most incredible, dynamic website. They are a true talent!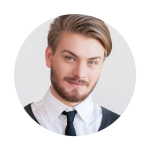 Ali was very helpful with my Web site mobile problem. He provided accurate solutions for the issue and I will consider his services for future work.
Ali and the team at Topnotch were recommended to me & my company has been very happy with their service! They have been able to handle all of our growing needs – they address and answer all of my questions. Unlike other companies they are happy to share their knowledge
Ali and his team are great to work with and definitely have an expertise in website design. We are extremely happy with our newly designed website as it will a huge benefit to us as we grow.
This review has the purpose of letting you and your team know how satisfied I am with your work. The design and development of my website was amazing and it looks great…
Incredible. Very intelligent and was able to me me at a point that met my needs at the moment rather than pushing for something that was too big for the time. Very helpful.
Top Notch Innovative Technologies did a beautiful job on developing our professional web page. They were great to work with and very responsive to our specific needs.
TopNotch innovations is one of the best choices for web design and development in Cape Cod out in the market. With their perfection in custom services, they provide exactly what the demand of the nature is. They listen to every detail and work professionally.
The Brightest Minds in Digital At Your Service
Partnering across start-ups to SMBs to corporate businesses, we deliver innovation that is measurable, mature, and meaningful.
Contact Us
Let's Make Cool Things Happen Start by saying Hi!